Record breaking number of participants, beautiful weather and friendly atmosphere marked the last Weekend on the Kopaonik. The mountain bikers from all over the Serbia came here to compete on the second mountain biking competition called "3 sides of Kopaonik", so well organized by the sport association of "На све стране" from Belgrade.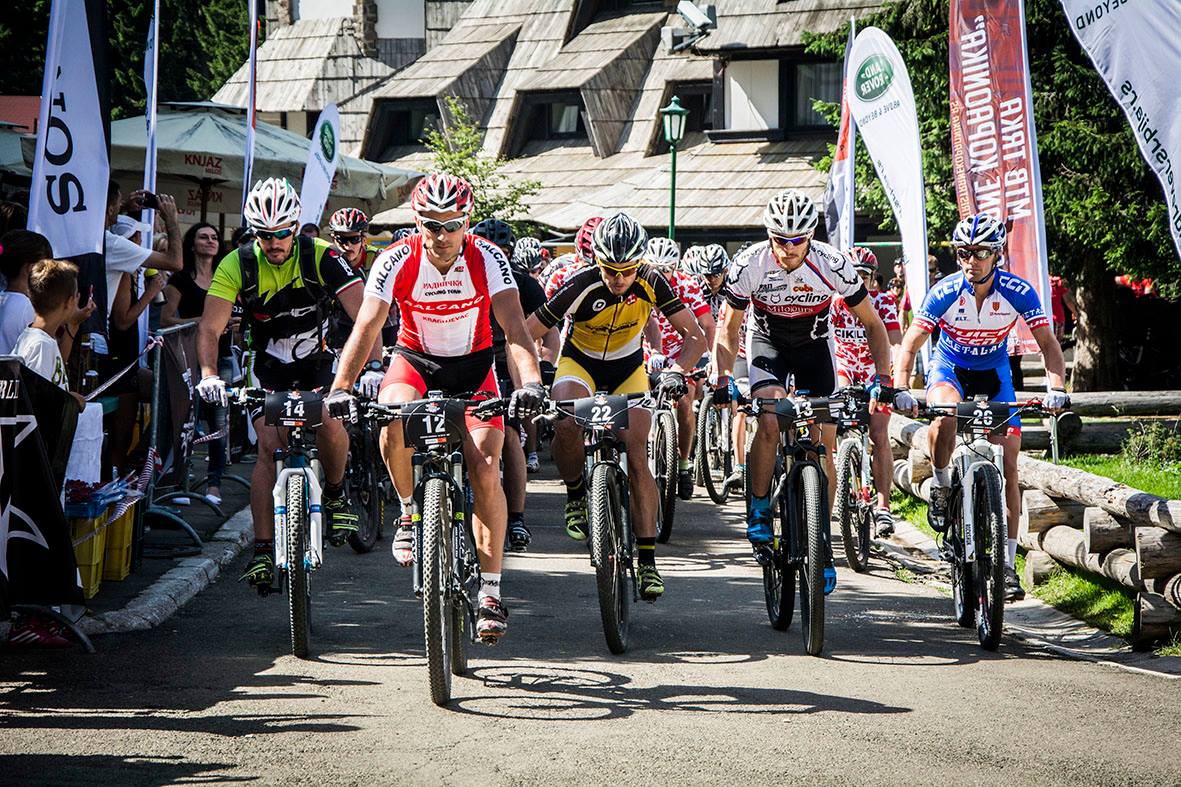 © Nemanja Mišćević
Same as the first event held last year, bikers were competing in 3 different categories:
1.
Elite
(big marathon, 62km, 2500m of hill ascent)
2.
Masters
(medium marathon, 42km, 1700m of hill ascent)
3.
Hobby
(small marathon, 22km, 700m of hill ascent)
The new category which is introduced this year and which sparked a lot of interest from the Serbian teams is Relay race in which teams were competing in overall standings.
Stefan Vasiljević, Aleksandar Čobović and Nemanja Todorović represented blue and white flag of the Innovation Cloud in the Relay race. They impressed everyone with balance and strength they shown while driving the challenging track which they managed to win in the overall standings. Congratulations guys!
Stefan Vasiljević drove the first 28km of the track. After him it was Aleksandar Čobović's turn to tackle the most difficult stage 24km long. Nemanja Todorović went before the team from Crna Trava after 18km long track to secure the win for the Innovation Cloud team.
The main event started at 10am on Sunday, 2nd of August, 2015. The 100 bikers started the race from "Konak" to win the Kopaonik Mountain from all three sides.
The winner of the male elite category is Ivan Jovanović from Kraljevo, after 219 minutes of intensive and tough race where only second divided him from the 2nd, 3rd and 4th place.
The winner of the female elite category is Mirjana Kolac from Croatia, after 5 hours of non-stop cycling. Croatian female competitors impressed all with their fantastic ride.
The hobby category was the most popular. More than 50 participants joined the starting line of this recreational race. In this race, female competitors showed that they can compete with males at the same level.
The popularity of this event, made organizers look forward to the next race, scheduled at the beginning of August, 2016.
For more information, please visit: www.tristranekopaonika.rs.
Results per category:
Men's elite category (62 km - 2500 m)
1) Ivan Jovanović (Serbia) 219: 29
2) Srećko Đolić (Serbia) 221: 42
3) Boris Popović (Serbia) 226: 54
Female elite category (62 km - 2500 m)
1) Mirjana Kolac (Croatia) 291: 16
2) Paula Vrdoljak (Croatia) 291: 25
Masters categories:
1) Bojan Vasovic (Serbia) 176: 13
2) Igor Antić (Serbia) 180: 25
3) Jotić Nemanja (Serbia) 185: 28
Hobbies category - Men
1) Koca Emir (Serbia) 62:08
2) Dejan Đolić (Serbia) 66:30
3) Željko Ćorić (Serbia) 66:45
Hobbies categories - Women
1) Milica Rajković (Serbia) 87:22
2) Milica Stevanović (Serbia) 95:33
3) Ana Kuzmanović (Serbia) 111: 48
Relay categories:
1) Innovation Cloud
2) Orlovac cross
Pictures are not our property, we used the pictures from the Facebook page: MTB 3 strane Kopaonika