The innovation platform perfectly architected to be incorporated flawlessly into your organization while enhancing overall efficiency and boosting your innovation capabilities.
Global Enterprise platform has an answer for the most demanding clients that are unable to fit into any of the solutions currently offered on the market.

Through the Global Enterprise platform, every aspect of our infrastructure, our workforce, our experience and our knowledge is at your disposal. Our global coverage is deployed with the most advanced and highly secure network infrastructure. The team of dedicated experts is at your service, ready to tackle issues and provide solutions for every aspect of your innovation initiative.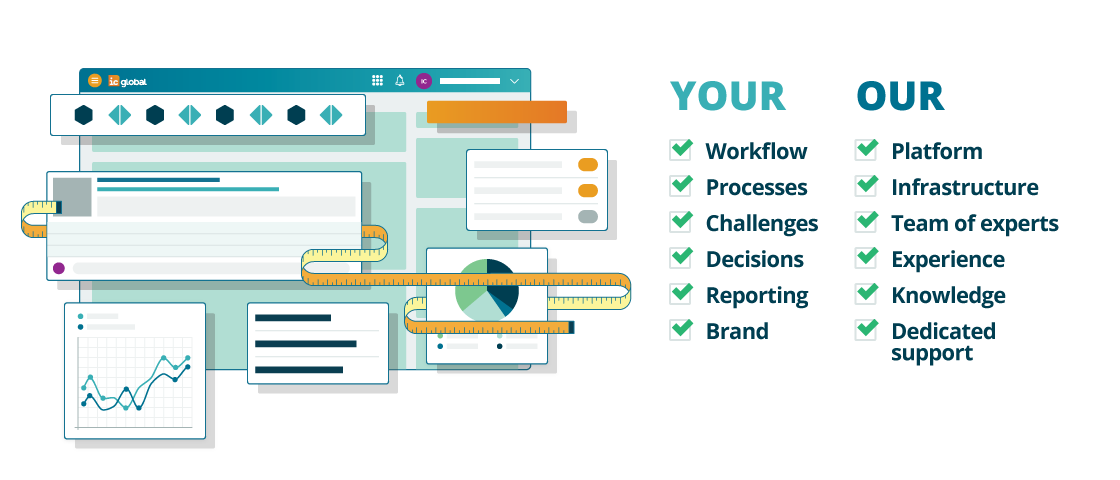 The main advantage of Global Enterprise solution is that it combines our experts with your innovation team to jointly design and develop a tailor-made software solution that fits perfectly into your existing business ecosystem. The platform, developed in this way, is able to meet even the most demanding requirements concerning global and mobile connectivity of your organization.

With our dedicated team and our infrastructure on one side, and your innovation strategy on the other, the Global Enterprise platform will be molded in such a way to become the perfect replica of your vision and the most efficient tool supporting your innovation journey.

Even the most advanced requirements of your innovation strategy and overall organization will be integrated into Global Enterprise platform at your request. With this, we will be able to reinforce your organization's best practices around innovation by embedding them into the software and making them available for your organization on a global scale.

Furthermore, the foundation and flexibility of our platform allows for unlimited scalability, regardless of the size and pace of your organizational growth, while breaching language, location and time zone barriers.

One of the biggest struggles of global organizations is to involve and engage their entire community. Regardless of the software superiority, without the proper involvement, the tool will simply be deprived of the fuel needed to keep the initiative moving forward. With this in mind, various gamification and competitive features are at your disposal to choose from, whether you are looking for UX, friendly interface, game-like challenges, small competitions, rewarding system and more. All this is with one purpose – to make sure your community feels comfortable and acknowledged while on the platform, willing to come back and further contribute to your initiative.

Our approach is a holistic and systematic, combining the where (areas of business to innovate), the what (innovation strategies) and the how (people, processes and technology). These answers build sustainable capabilities that deliver more predictable business and innovation results.