Have you already hopped on the bandwagon to a circular economy? If not, what are you waiting for? Rising issues of pollution, environmental change and scarce resources are just some of the reasons to start thinking about shifting your business to a more efficient, sustainable and eco-friendly one. One of the main and crucial positions in the entire transitional process are innovative solutions which will enable the transition from a linear economy we are all used to, to a circular one. This shift will open up opportunities for your business on so many levels so, instead of resisting the change, start thinking about how you can innovate your way through it.
Not long ago, things were designed and manufactured to last longer and the consumers had a different approach to products as well - repairing them and extending their life cycle as much as possible. But somewhere along the way, it seems as if our appetites for shiny new things got bigger and we started placing an emphasis on production and consumption, piling up landfills and oceans with waste. This lasting trend ended up with overproduction, over-pollution and excessive use of resources we are running out of. It is obvious today more than ever before that we will not get far if we continue with this behaviour.
According to The Circular Gap Report, presented at the 2019 World Economic Forum Annual Meeting in Davos, only 9% of the global economy is circular today!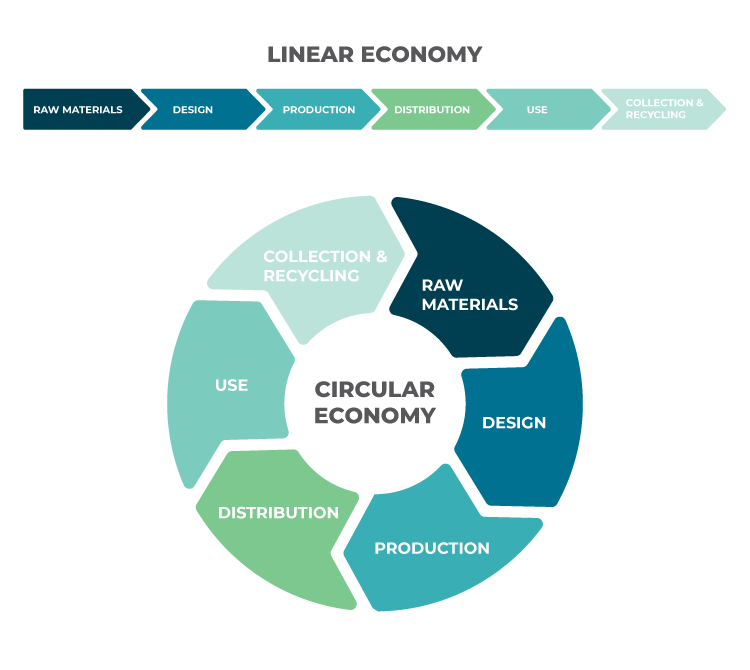 What does the Circular Economy mean after all, and how could we benefit economically, socially and environmentally? There is a huge potential for innovations no matter the industry you are in. So, let's talk more about Circular Economy and its innovative solutions that will enable this closed-loop system and encourage the development of multi-life products, creating new jobs, opportunities and a greener environment, at the same time.
IMPORTANCE OF A GOOD DESIGN
Around 80% of product impact is at the Design stage
Before starting any production, there must be a clear design of the product or service that will be in line with the principles of the Circular Economy. That design will take into account the whole lifecycle of a product as well as the possibility to be redesigned into something new. A well-designed product is one that supports sustainable production as well as sustainable use. It's repairable when needed, and designed to be retrievable when it gets to the end of its lifecycle; to be disassembled and its parts used as a resource for the development of new products or services. These innovative designs will enable you to turn waste into value through the closed-loop system, so instead of ending up with the waste at the end, you will end up with the value-added goods. Sounds good, doesn't it?
FROM WASTE TO VALUE: RESOURCE EFFICIENCY
8.4 GT of materials are cycled input, and 84.4 GT originate from extracted resources
Once we have the right design, the next thing we need to find is the appropriate resources. Burning fossil fuels lead towards a climate breakdown and we are all witnessing it. We are running very low on natural resources, extracting them at high rates and even using other resources to convert them into products and services. On top of that, after a quite short period of time, we just discard them as waste, of course. We think of ourselves as a supreme species, but unlike others who have adapted to the environment, we do the opposite. There was no waste until we started to exist,
nature had its own recycling system
, and maybe we should look up to it for some ideas.
Circular Economy encourages a more innovative and efficient way of using existing resources, emphasizing more renewable, reusable and non-toxic resources. This also means treating the waste we've accumulated over the years as a new resource for production. The Sharing Economy and its sharing of resources such as plants, water, energy and knowledge is also a way to become more cost-effective, minimizing the impact on the environment and maximizing the overall value.
Finding innovative solutions every step of the way is a must, and
developing new technologies
that will support them is of great importance. These new technologies that emerge from innovations enable
cross-sectoral collaboration
and a synergy that only accelerates this whole transitional process and encourages innovative solutions further.
THE SHIFT IN THE MINDS OF CONSUMERS
World food demand is expected to increase for 70% by 2050
Around 25% of food made for human consumption goes to waste
Clothing production is doubled but wearing that same clothes is as half as long as used to be
The fast-growing population rate and urbanization are additional aspects needed to be taken into consideration when approaching issues we are dealing with and looking at the Circular Economy for innovative solutions. A critical shift in the minds of consumers, or, in other words, in the minds of all of us, has to be made. Rather than trying and fixing something broken, most of us tend to discard it as waste, and simply go and get a new copy. Convenience over cost, we are more willing to spend extra money than time trying to fix these problems. We've created a consumerism conveyor belt and we got trapped on it.
Maybe one of the solutions is not owning some of these goods, rather leasing them. This is definitely nothing new, and businesses have been applying this model for many years now. But just imagine how big of a difference would it make if you could, for example, lease a TV, exchange it for a new one when the time comes, and return the old one back to the factory where it would get disassembled, recycled and reassembled into a new TV or a new piece of appliance.
Phillips has shifted its model to suit a more circular one. So instead of selling lightbulbs as we are all used to, they sell lighting-as-a-service. This provides them with renewable resources as they can reuse components of their old lightbulbs, but also creates a closer relationship with their customers as well as closing the production loop and developing multi-life products.
NEW JOBS POSITION WE CANNOT EVEN IMAGINE NOW
Around 65% of children starting school now will hold jobs that do not exist today
The opportunities for innovation are almost limitless. The Circular Economy encourages your business to team up with businesses from other industries and to try and find solutions that will benefit all together. It is an innovators playground where every idea is valuable and can be used at almost any point in the loop. By mixing and matching and coming up with innovative solutions an array of new jobs will arise to meet the rising needs. No matter the industry, new technologies and IT-supported by innovations will create new job positions we cannot even imagine today.
This was just to spark your imagination about the benefits the Circular Economy could potentially have for your business, if you look at this change as a great opportunity for innovations.
Innovation Cloud
is an ideal partner to team up with and work on your great ideas and designs and develop your products and services which will apply to the principles of the Circular Economy, making your business more successful and the world a better place.